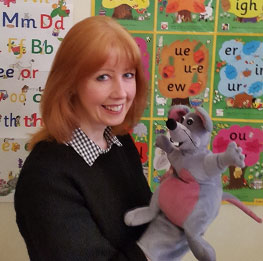 Clare Fulton
ICET Admin
An Experienced Teacher Trainer
UK Teachers Academy *
– Clare Fulton is an experienced teacher of pupils at all stages of the primary. She has also worked in secondary schools with pupils who have additional support needs and in special school settings too. A freelance trainer for the Jolly Learning organization, literacy is her passion and Clare has worked with inspectors, trainers, teachers, and Ministry of Education officials to deliver Jolly Phonics and Jolly Grammar training. In this capacity, she has traveled to Oman, Greece, Egypt, and Germany. She is also delighted to be a trainer for the UKTA, has worked with the British Council, and currently works with the National Literacy Trust and Scottish Book Trust.
Abstract1:
"Multi-sensory Synthetic Phonics: A comprehensive fun programme to teach reading and writing in English."
This session offers an introduction to the Jolly English programme which has been specifically designed for children in the early years who have little or no knowledge of the English language. Words and phrases are introduced using songs, games, chants and stories to bring learning to life and develop children's listening and talking skills in English. It focuses on vocabulary building using the tried and tested principle of Presentation and Practice and incorporates a unique multi-sensory approach which works effectively for all learners – visual, auditory and kinaesthetic. This course has been developed so it can be used flexibly to suit different classroom scenarios. It can be used prior to teaching the internationally acclaimed Jolly Phonics programme or can be a stand-alone course and is suitable for class, group or 1:1 teaching. It can be completed in a year or spread out over two years, depending on the number of teaching hours available. The resources are exceptional with the Teacher's book giving teachers everything they need to teach Jolly English.
Abstract2:
The SDGs and Embedding Global Citizenship in all Learning and Teaching
This session focuses on the Sustainable Development Goals and Global Citizenship and offers school leaders ideas for embedding global citizenship teaching in all subject areas in all K-12 contexts. The UN SDGs provide a really relevant and motivating context for young people to learn about the world, their role within it and the opportunities we have to make connections and work together to create a fairer, more sustainable future for all. With practical suggestions, resources and methodologies we shall explore different approaches so that participants can reflect and consider which would work best in their own particular setting. As young people are becoming increasingly aware of issues such as climate change, fair trading, food justice and rights it is important that they are equipped to think critically about what they can do to play their part in creating the future they want to see. The UN Sustainable Development Goals give us the blueprint and we can provide engaging content for lessons to support young people on this journey.